BETTY PHEIL: A LIFE (1921-2001)
Monday 9/27/2021
BETTY PHEIL (1921- 2001)
This is the story of Betti Cilli (Beilah Cilli) Goldschal. She was born in October 25, 1921 to Israel Goldschal and Jochewed Goldschal (nee Jungermann),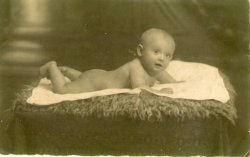 just three years after the Great War had ended, the war to end wars. No-one then could have predicted the cataclysmic destruction that followed in its wake. Least of all Betti, as seen in the picture on the left.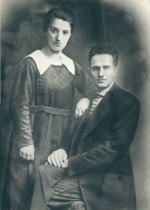 Betti, a happy smiling baby who was totally oblivious of the growing storm clouds about to break over Europe. Storm clouds that would bring with it the rise of Hitler and Nazi tyranny and the near total displacement and destruction of European Jewry. On the right, you see the photo taken some time after the wedding of Betti's parents, Israel Goldschal (b. 1892 d. 194?) and Jochewed Goldschal, nee Jungermann (1897-1988) .
Once married the Goldschal's moved to the Grenadier Strasse.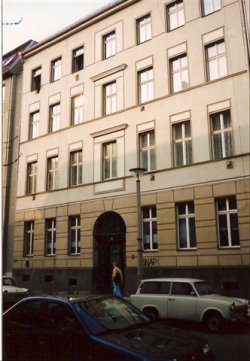 Grenadierstrasse after recent renovations c2000. Photo taken by Rosa and Joe Sacharin

The Goldschals moved to the Linien Strasse in 1936. Israel Goldschal was a master tailor by profession. Israel and Jochewed had two machines at the home of Jochewed's parents. Israel rented, or bought, large premises in Berlin, Wedding. He manufactured ladies coats and at one time employed 20 people on the premises as well as other home workers. The products were sold in Wertheim and KaDeWe, both big department stores which were then Jewish owned. He must have been successful since he also managed to buy land and build a summer house. He was arrested following the passing of the Nuremberg Laws, September 1935. The Nuremberg laws, among other things, deprived Jews of German citizenship, designating them "subjects" of the state. This led to the trial of about 250 men. All were imprisoned. Israel's small tailoring factory was confiscated. The list of the accused can be seen in the Jewish section at Auschwitz. However, back in 1921, when Betti was born, there was no indication of these future dark events.
| | |
| --- | --- |
| | In this photo you see three generations; Betti, Jochewed and Bluma Devorah. This photograph was probably taken around 1922. Israel and Jochewed had three children: Betti, the eldest, then Avrom Chiel - also known by the pet name "Brummel" - and Rosa. |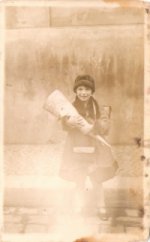 Betti was the first to go to school. She attended the modern orthodox Jewish Adass Yisroel school. Here Betti is seen holding the customary Zuckertuete (also known as a Shultuete). There is now a memorial stone standing where the old school stood. It reads in part "Remember! Adass Yisroel, the modern orthodox Jewish Community in Berlin, was founded in 1869. Dr. Esriel Hildesheimer served as its first Rabbi. On the Jewish New Year 5685 (1924) a school and a synagogue were officially dedicated at this location, 11 Siegmundshof. In 1939 all of the community's institutions were destroyed by the Nazis. Its members teachers and pupils were tortured, deported and murdered by thugs and their accomplices. Let the memory of the just be blessed!"

Avrom ("Brummel") Chiel Goldschal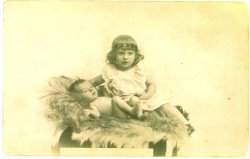 Avrom was born on April 17, 1923.
In this photo you see Betti with Avrom.

Brummel's photo was taken at age 6 when school life began. He is seen holding the traditional Zuckertuete. The last major family get-together was at Avrom's Bar Mitzvah in 1936.

His arrest took place at 2:00 am while at home in November 1938, just one week before Kristallnacht, the night of November 9-10, 1938. This was a time when many Jews were arrested. It was difficult for people to escape, if not forewarned. Neither Betti nor Rosa were home that fateful night. On Kristallnacht, the synagogue that the Goldschals went to was destroyed. Things were becoming desperate. Rosa got a place on one of the Kindertransporte to England on December 1, 1938. As war became imminent everyone was clamoring for a visa at the British Embassy in Berlin. Jochewed was unable to get a visa, but continued her efforts to get Betti out.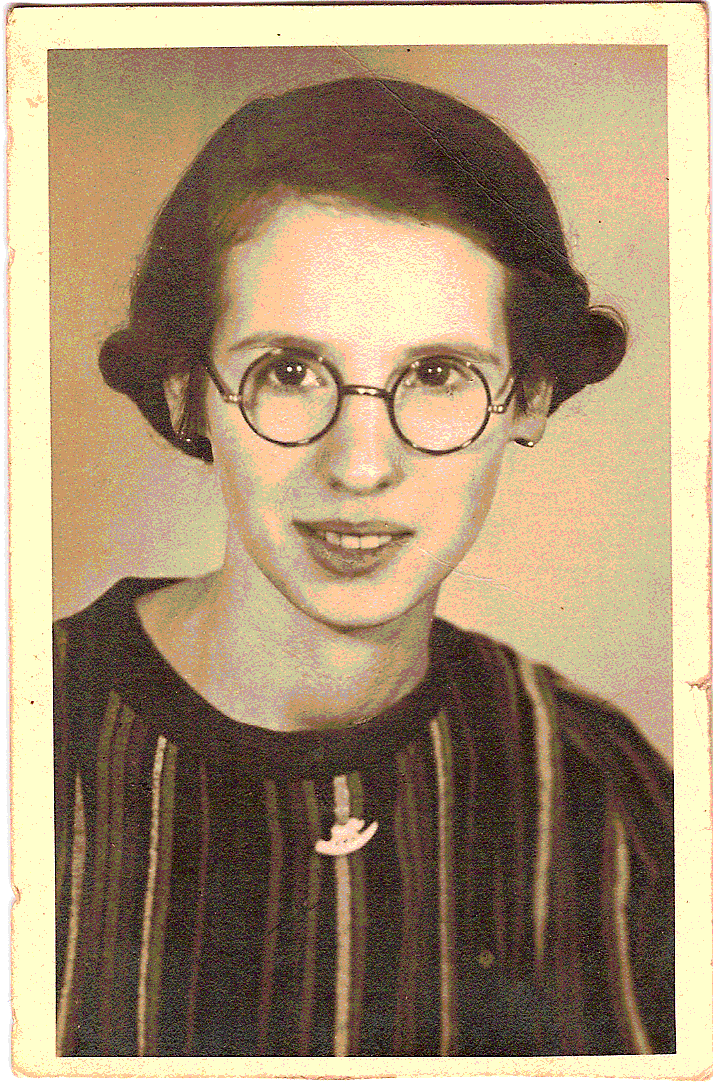 On September 1, 1939, just two days before the outbreak of World War II and Germany closed its borders, Betti left on one of the last flights out of Germany. She was not yet 18 years of age. Jochewed was trapped in Germany. Avrom had been sent to a labor camp. Betti and Rosa, now in Scotland, received a letter from him in 1942, sent through the auspices of the Red Cross (Deutsches Rotes Kreuz) from Rzeszow, Poland. Addressed to Rosa Goldzal, Edinburgh. There was a maximum limit of 25 words only permitted. In pencil, he wrote (translated from the German): Dear Sisters How are you? Are you well? I am as always. Every week get post from Mummy. Have to work but not learning any profession with it. (July 27,1942).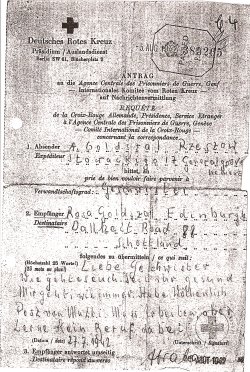 It was the last ever heard from him and despite many searches by his sister, Rosa, no trace of him has been found.

Rosa Goldschal

Rosa Goldschal was the youngest of the three. She was born in 1925.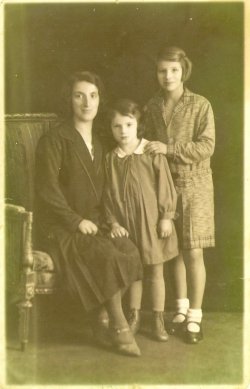 She was about five years old when this photo was taken.
Rosa arrived in England in the Kindertransport in December 1938. After about three weeks at Dovercourt Bay Holiday camp, that included Hannukah - the first day of Hannukah that year was Sunday December 18, 1938 (Kislev 25, 5699) - she was sent to Edinburgh, Scotland to a Jewish family, as a domestic, despite her young age.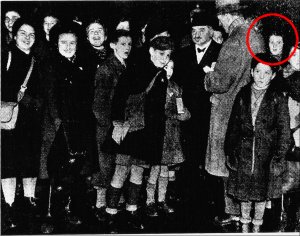 This photo shows Rosa, circled in red, arriving at Edinburgh's Waverley Station. The children are met by Rabbi Dr. Salis Daiches, leader of the Jewish Community in Edinburgh.
In July 1939, Rosa received a letter from her mother, Jochewed. Included in that letter was a photocopy from the German police. It stated that unless her mother and Betti left Germany within two weeks they would be arrested. She was also told to change her family name from Goldschal to Goldszal. Rosa was very upset and asked help from the people she stayed with. It seemed they could not or would not help, but a copy of the letter must have been sent to London, to Woburn House. Betti managed to get a domestic visa, but not her mother. However, her mother Jochewed, understood how important it was for Betti to leave. Initially, and totally understandably, Betti took the separation from her mother at the airport very badly. She became ill at the time and very distressed. She arrived in Edinburgh on September 1, 1939. She stayed with Rosa at the Jewish family's home for a short while. Betti had already started training as a kindergaertnerin, a nursery school assistant, in Germany. In Scotland, children, nursery school age included, were evacuated from major cities, and Betti was billeted in Galashiels to care for a group of nursery children. Although talented in her ability to communicate with young children, she couldn't speak or understand a word of English. She learned on the job, simply by listening and the very young children teaching her. There were no fancy English courses then. Reading and writing was learned from reading newspapers and books.
The nursery school children were returned to their families in late 1940 and Betti had to leave the eastern part of Scotland. (Edinburgh and the surrounding area was a protected area because of the Forth Rail bridge and Rosyth Naval Yard. Aliens over the age of 16 were not allowed to live there). She went to Glasgow. There was quite a large number of German, Polish, Austrian and Czechoslovakian refugees in Glasgow at that time. One of the refugees, Dr. Blau, introduced Betti to a Church of Scotland minister, the Rev. MacDonald and his wife. The Church of Scotland had nurseries, and Betti was given a position in Partick. The Rev. and Mrs. MacDonald took Betti under their wing and she was welcomed to their home.The Reverend was well versed in the Old Testament. Mrs. MacDonald made many efforts to convert Betti to Christianity, but Betti told her in no uncertain terms that this was out of the question. Betti stayed in the women's hostel in Renfrew Street in Glasgow. It was run by the Quakers and the matron was not a woman who was liked by the residents.
War is Over
Berlin
The First Pessah: (Passover) Festival of Freedom - April 1946

This is the bread of affliction...
Baking Matzot in Berlin, April 1946. Jochewed Goldszal on the right.
The first Pessah after the liberation of Berlin.
Berlin, April 1946. Jochewed Goldzal is the little lady placing the box of matzah on top of the pile of cartons filled with matzot. The carton box proudly displays the logo of the American Joint Jewish Distribution Committee.
The first Seder, April 1946 Jochewed Goldszal can be seen sitting on far right of photo.
Glasgow
At the end of the war, the Education Department started a new educational course in nursery education run by Miss Ella Ferguson based in Jordanhill College. Betti was highly thought of by Miss Ferguson who was very supportive of her during her training and afterwards. They remained in contact until Miss Ferguson's death many years later.

War ended in May 1945. Berlin was divided into four sectors: American, Russian, British and French. Jochewed, having survived in hiding in Berlin for the duration of the war, originally found herself in the area that was to become the Russian zone. Jochewed had the presence of mind to relocate to West Berlin, keeping in mind that her two surviving daughters were in Britain. Throughout the war she had carried with her the Edinburgh address of her daughters. She asked a British and an American soldier to help her make contact with Betti and Rosa. In order for Jochewed to immigrate to Britain, Betti and Rosa had to prove to the authorities that they could support Jochewed and provide housing. It was the job with the Corporation of Glasgow that gave Betti the necessary requirements, a stable job and income, to allow her to put in a request to the British Army on the Rhine (BAOR) that her mother be given a permit to come to Glasgow and live with the family.


					48, Belmont Street,
					Glasgow.  W.2.
					Scotland
					
					13th June 1946.


Mrs. J. Goldszahl
Zehdenicker Strasse 21,
Berlin. N.54.
 
Dear Mother, 

	The object of this short letter is to extend
an invitation to you to come and make your home here with
me in Great Britain.  During the war years I have been
employed by the Glasgow Corporation as a teacher in a Nur-
sery School and am pleased to say that I have now been
engaged on a permanent basis which means a great difference
to me in many ways.  It means my future is secure and 
as I have now an income sufficient to maintain us both I
hope that my long cherished wish of having you here with
me can now be implemeted.  You need have no fears mother,
as the people in this country are all so kind and helpful
and I know you will be very happy.
 
                                                  Your loving Daughter,
 



					
					48, Belmont Street,
					Glasgow.  W.2.
					Scotland

					13th June 1946.
 
Officer Commanding
H.Q., 700 Central Unit
B.A.O.R.
 
Dear Sir,
 
Until 1938 when the presecution of the Jews by the Hitler 
became very acute I lived in Berlin with my Father, Mother,
Sister, and Brother but during that year our family became
 an object of the Nazis' attention. My Father and Brother 
were taken into custody and have not been heard of since 
while my sister who was then a child of 12 years of age, 
successfully reached this country to be foll-
owed in 1939 by myself. My Mother however was obliged to
remain behind in Germany and after the final eclipse of the 
Germans I managed to establish contact with her, finding
that she is at present in Berlin without any means of support.
I have been employed by the Corporation of the City of Glasgow
as a teacher in a Nursery School for the past five years and 
have now been engaged in a more permanent basis which means that
my future is secure.  As I have sufficient means to maintain
both my mother and myself and as there is ample accommodation
for her here I have written the enclosed formal letter invit-
ing her to come to Glasgow to live with me. This is a long
cherished desire both of my sister Rosa, now a nurse in York-
hill Childrens'  Hospital, Glasgow,  and myself and we sincerely
hope that you will see your way to make it possible for my
mother to take advantage of my invitation.  Should you require
any further information I shall be only to pleased to furnish
such particulars as you may desire.
 
                                                I am,
                                                    Yours faithfully,
 
 
P.S. In case it is necessary I would mention that my mother
        is in her 47th year and as she has been living under-
        ground during the war years her papers have gone astray.    
 

 

REUNION
Jochewed Goldszal reached Scotland safely by train on February 27, 1947, arriving at Glasgow Central Station. She was met by her two daughters.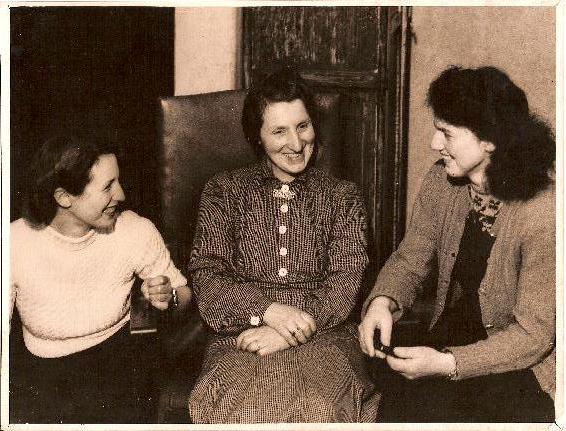 Triumphant victory! 1947. The reunion at Trefoil Avenue. Betti is on the left, Jochewed, center, and Rosa on the right. The war is over, at last!
Reality slowly sinks in. The hidden scars of displacement. The above photo was taken one Friday night, at Trefoil Avenue, Glasgow, in 1947. The occasion was a Shabbat evening meal. From left to right: Miss Schur, Jochewed Goldszal, Mr. Doktor, Rosa Goldszal, and Betty Goldszal.
Mr. Doktor, a refugee, a commercial traveller, unmarried was helping his nephew and niece. Ilse, his niece and Rosa Goldszal shared digs in Allison Street. Miss Schur was also a refugee, a dressmaker. She went back to Berlin to look after her sister who was critically wounded during the fighting in Berlin. Unfortunately, once her sister died, Miss Schur committed suicide.
| | |
| --- | --- |
| Another tragedy was to follow: Jutta Wagner, also a refugee from Berlin had been Betti's flatmate and her closest friend in Glasgow. Both of her parents had perished in the Lodz Ghetto. Jutta and Jochewed hit it off instantly. Jutta asked Jochewed "Wirst Du meine Mutti auch sein?" (Will you be my mother as well?) It was Jochewed that visited Jutta and gave her loving support as she succumbed to tuberculosis (TB). Jutta died on June 30, 1947. | |
| | Photo on left shows Jutta Wagner sitting with Betti in happier times. It was taken at 48 Belmont Street, Glasgow, at Christmas eve (Weihnachten), 1944. See the roaring fire in the background. On the mantelpiece to the right is a photo of Jochewed Goldszal, on the left a photograph of someone in a sailor uniform, probably the boyfriend of Jutta who was to break her heart by breaking off the relationship. |
After all this upheaval, Betti married Henry Pheil (Heinrich Pfeil), also a refugee from Berlin, on June 7, 1949.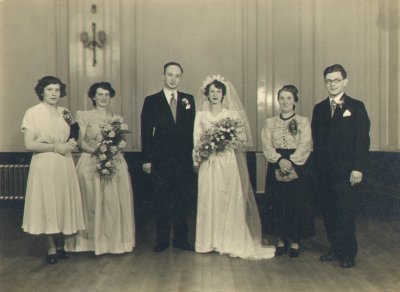 From left to right: Jetti Szydlo (Betti's cousin - the daughter of Esther Chasha - Jochewed's sister) ; Rosa Goldszal; Henry Pheil; Betti Goldszal now Betty Pheil; Jochewed Goldszal; and Norbert, the best man, Henry's friend, also a refugee.
Jetti Szydlo had been sent to safety during the war years in Denmark. She is the only survivor of six brothers and sisters (Leo, Harry, Paula, Yankele, Chiel, Heine).
Betti subsequently left her job at the Corporation of Glasgow as it was either career or marriage for women at that time and Betti had chosen marriage. She was then asked to run the Jewish Nursery at 17 Queen Mary Avenue. When this nursery closed, she was asked by Rabbi Rubinstein of Giffnock and Newlands Synagogue to start a nursery in Giffnock. Betti chose the equipment and laid the foundation for the curriculum. She worked there until the birth of her first child, Maurice, in 1954. Her second child, Rose, was born in 1960.
Betti returned to work as a nursery school teacher, re-called by Miss Ferguson, her teacher and mentor,about 1969. In 1985, after the death of her husband, Henry, she immigrated to Israel. After a great deal of hesitation and with many mixed feelings, she accepted an invitation from the Mayor of Berlin to visit the city of her birth as a good-will gesture "Wiedergutmachung". Betti died after a brave fight with illness in 2001.