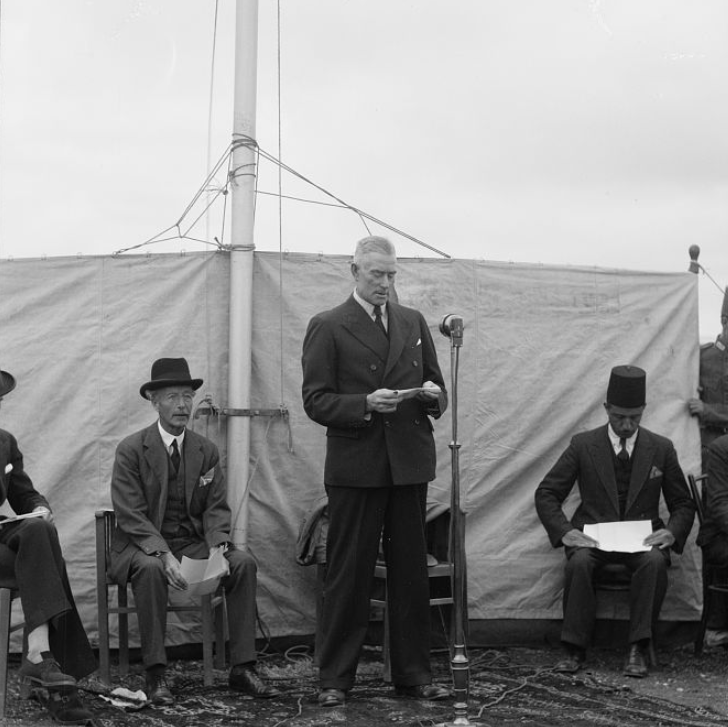 William Hudson, Postmaster-General welcoming Sir Arthur Wauchope, His Excellency, the High Commissioner to open the new Palestine Broadcasting Service Radio Station, March 30, 1936. Photo: Library of Congress, Washington, DC.
Text of Speech by Postmaster General, Lieut. Colonel William Hudson
Inauguration of the Palestine Broadcasting Service, March 30, 1936.
As reported in the Palestine Post, March 31, 1936.
---
About two and a half years ago I happened to travel between port said and Marseilles by the same ship as His Excellency The High Commissioner. On the first morning out from port Said we met on the Sports Deck, but the conversation did not relate to deck games; it related to broadcasting and to the possibility of establishing a service in this country.
With that capacity for avoiding any waste of time which is so characteristic of the High Commissioner, His Excellency produced a notebook and, before the discussion had finished, had jotted down a rough estimate of the cost of providing a broadcasting service for Palestine. His Excellency did not let the matter rest there, but pursued it on arrival in England and succeeded in obtaining the Secretary of State's approval of the scheme.
The first results of His Excellency's efforts can already be seen in the shape of the transmitting station; the second result you will shortly be able to hear, when programme transmission commences. I have very much pleasure in asking His Excellency the High Commissioner, Sir Arthur Wauchope, to open the Palestine Broadcasting Service.
---
His excellency the High Commissioner then approached the microphone and said: "For some years..."
NNNNN