Biography
Radfernfahrt der O III B vom 28.9.1934 bis zum 9.10.1934
Long-distance Cycling School Trip, September 28, 1934 - October 9, 1934.
Berlin - Riedbeck - Dresden - Saechsische Schweiz - Dresden - Meiszen - Leipzig - Bitterfeld - Wittenberg - Berlin.
Joachimsthaler Hoehere Handels Zeitung, 1937
Letter from Lilian McDonald, Stirling, Scotland, to Heinrich Pfeil, Berlin, Germany, December 13, 1938
Diary of "Enemy Alien" Heinrich Pfeil (1940-41)
Articles and Illustrations for "Anderen Seite" (The Other Side), Camp B, Internment Camp, New Brunswick, Canada, 1940-41 (27 pages)
Illustrations and titles by Heinrich Pfeil for Camp B Newsletter. The title Anderen Seite is itself a play on words in German, as "Seite" means either "Side" or "Page".
Photo Gallery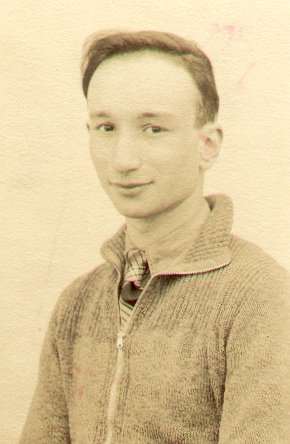 Heinrich Pfeil as teenager.