INTRODUCTION
PALESTINE BROADCASTING SERVICE (PBS) AND ITS EXPERIMENT WITH PUBLIC DIPLOMACY, 1938-1948
This website will focus on people, events and publications that were involved in building a national radio service to British Mandatory Palestine, known as the Palestine Broadcasting Service (PBS). The people involved in broadcasting were all to some extent pioneers in this field. Although the PBS was largely modelled on the British Broadcasting Corporation (BBC), most people at the time had no idea what it meant to be at the other end of the microphone, what a radio studio looked like, what it needed to function. Even so, the PBS was not a clone of the BBC. There was one significant difference between the BBC and the PBS that made all the difference. The BBC was an independent corporation, the PBS was a British government agency. Unlike the BBC, the PBS was not only a pioneering experiment in public broadcast radio, it also had all the elements of a "public diplomacy" tool, some thirty years before the term" public diplomacy" came into being. The term "public diplomacy" was only coined in the mid-1960's.
The PBS was opened as a department of the Post Office administered by the Postmaster-General While there is agreement that there is no single agreed definition of public diplomacy, there is a working definition for it, which is:
"The transparent means by which a sovereign country communicates with publics in other countries aimed at informing and influencing audiences overseas for the purpose of promoting the national interest and advancing its foreign policy goals."
(see webpage for University of Southern California (USC) Center for Public Diplomacy)
From the outset in 1936, the PBS saw the importance of employing local staff, both Jewish and Arab, not just for menial tasks, such as cleaners and janitors, but at all professional levels of the broadcasting industry. Writers, editors, journalists, broadcasters, actors, engineers, educators, to name just a few of the professions needed.

The High Commissioner, Arthur Wauchope, giving inaugural address of the PBS, March 30, 1936.
The inauguration ceremony of the Palestine Broadcasting Service took place in March 30, 1936. The speeches were broadcast round the country via radio shops with loudspeakers attached so that as many people people could hear the broadcasts as possible, even if they didn't have a radio receiver at home. One of the keynote speakers was High Commissioner Arthur Wauchope. His speech was reported in English and in Hebrew and Arabic in the newspapers the next day. In his speech he set out his agenda at least for the first steps:

"... The Broadcasting Service in Palestine will not be concerned with Politics. Broadcasting will be directed for the advantage of all classes of all communities. Its main object will be the spread of knowledge and of culture nor, I can assure you, will the claims of religion be neglected.

As in all our activities, we shall start on a small scale but, God willing, we shall advance step by step,until we have a service worthy of the vivid and varied life of Palestine.

We shall try to stimulate new interests and make all forms of knowledge more widespread. I will give you two examples in both of which I have a deep interest.

There are thousands of farmers in this country who are striving to improve their methods of agriculture. I hope we shall find ways and means to help these farmers and assist them to increase the yield of the soil, improve the quality of their produce, and explain the advantages of various forms of cooperation.

There are thousands of people in Palestine who have a natural love of music, but who experience difficulty in finding the means, whereby they may enjoy the many pleasures that music gives. The Broadcasting service will endeavour to fill this need, and stimulate musical life in Palestine, so that we may see both Oriental and Western music grow in strength, side by side, each true to its own tradition...

...I also take this opportunity to thank the Postmaster General and his Department, Marconi's Wireless Telegraph Company, and our newly established Broadcasting Staff, and the Programme Advisory Committee for all the labour and thought given to ensure the success of our new Service."
The press could be relied upon to give the daily schedules of the broadcasts, and some highlights of yesterday and/or the day possibly some criticism of the broadcasts, and possibly a readers comment, complaint or praise for a program. but little else. If PBS wanted more indepth articles on the subject matter then they would have to write it themselves or outsource it to journalists they could trust. Obviously, those that were employed by them would attend meetings to discuss the day/week ahead or what went right or wrong with the broadcasts that had been the day/week before and any other business of the day necessary for the smooth running of a radio station.
Two publications were produced during the early years.

1. Radio Service of Palestine: Broadcasting Schedule
(Sherut HaRadio Shel Palestina: Tochniot Rishmiot)
published by The Posts, Telegraph and Telephone of Palestine
(Eretzisrael) abreviated to; In Hebrew: הדואר, הטלגרף והטלפון של פלשתינה (א''י)
ד. ט.ט. פ (א''י)

2. Jerusalem Radio: The only Radio Publication in Palestine.
The first issue came out Friday, September 30, 1938
August 2, 1939, tragedy struck. Three bombs rocked the studio, killing two local members of staff. Mrs Mae Weissenberg, organizer of the English Children's hour and English announcer, and Mr. Adeeb Mansour,one of the control-room engineers. Who planted the bomb? After an investigation, one of the young office clerks, admitted to being a member of the outlawed Etzel group, he was arrested and sentenced to one year administrative detention under the Emergency Regulations, suggesting that the British authorities were not totally convinced that he had anything directly to do with this particular act of terror. It could have been that it was a "work accident" and the bomb, intended for somewhere else, exploded prematurely. The matter remains a mystery to this day. But there is one track that didn't seem to be voiced aloud in public...taking into consideration the timing. There was an active branch of German Nazis living in Jerusalem. By August 1939, the German government sent call-up papers to all eligible Germans in Palestine, and by the end of the month some 249 had left to serve Hitler. Had any of the die-hard Nazis being involved in planting the bomb, the evidence would have disappeared as they quietly left the country to Germany.
On 3 September 1939, Britain declared war on Germany, all Germans remaining in Palestine were then classed as enemy aliens and four Templer settlements were sealed off and turned into internment camps.
The PBS switched its resources to fighting the war. Among these resources was publishing a new illustrated magazine called Hagalgal. The First issue appearing in shops in 1943. It started out as a biweekly, while every other week, the magazine Jerusalem Radio supplemeted it with radio schedules of the week and other articles.
By May 1945, the war in Europe was over, although there was still fierce fighting going on in the Pacific arena against Japan until September 1945. Not waiting for hostilities to end Edwin Samuel was appointed the new director of broadcasting, June 1, 1945, and immediately began to reorganize the PBS into the post-war world and the new local environment. To move from propaganda to "public diplomacy". The war had ended in Europe, in May 1945, but not yet over in the Pacific arena against Japan. That wouldn't happen until September 1945.
To help him in this re-organization, Samuel brought in the former war correspondent, Rex Keating, as Assistant Director of Broadcasting, PBS (1945-1948), based in Egypt at that time.
Edwin Samuel, before taking up the position of director of PBS wrote to Wing Commander A. H. Marsack, BBC offices, Cairo, requesting that he send him some of the Arabic recordings made by him for short wave programs for the BBC. "Could you make for us [Edwin Samuel and Azmi Nashashibi (MBE), Controller of Arabic Programmes] duplicate copies of any such recordings in the future? If so what would be the cost of each? How many such recordings are made each month and how many are Koran, music, talks, etc? Nashashibi is particularly interested in songs from the latest Arabic cinema films... one important point is that of copyright. We would presumably need the expressed rights of the artists that the recordings could be broadcast from the PBS without payment of any additional fee by us..." (1)
In another letter, Edwin Samuel wrote to Rex Keating: "Our existing blank records are old stock and do not wear well after recordings have been made.
We have a large supply of new blank records on order from the United Kingdom but they may take some time to arrive.
Meanwhile, are you in a position to sell us some blank records of recent manufacture, or to lend us some on the understanding that we will repay any kind as soon as our new ones' arrive? If so, please let me know the specifications, the quantity available (and the price)..."(2)
At one point, PBS reportedly had a library of something like 18,000 recordings of music, speeches and other programs! The recodings were in the format of fragile acetate discs/records (78 RPM), many were either brought over from Britain, music and/or speeches, or recorded locally and archived in the PBS library, for broadcasting purposes.
What happened to these recordings? A handful has been preserved in the Rex Keating Collection, British Library, London, and St Anthony's College, Oxford, but most have completely disappeared from sight. Acetate discs are fragile, so many may have been broken in the final days of the studio, May 1948. Some may have been taken as "souvenirs", see article "I capture the Public Information Office Bell ..." by Theodor F. Meysels, Palestine Post May, 1948. Hopefully that there are still some recordings out there somewhere, preserved in private or public collections. Unfortunately, there is no known list locating their whereabouts.
Photo reconstruction, for illustrative purposes only, of an acetate record with PBS label.

---

---


From left to right. Edwin Samuel, Director of PBS; William Phillips, a career United States diplomat; and Dr. Frank Aydelotte, Director, Institute of Advanced Study in Princeton, New Jersey. Photo taken in the record library during an official visit to the PBS studio in Jerusalem, 1946.
Phillips and Aydelotte were there as members of the Anglo-American Committee of Inquiry on Palestine. (Photo appeared in Hagalgal, vol 3, no.35, March 28, 1946, p11).
Edwin was not a totally unknown personality. His father was Herbert Samuel, the first High Commissioner of Palestine, 1920-1925, in charge of its administration. Edwin, himself had served in the Jewish Legion, during the first world war, 1914-18, he was also very interested in culture and gave lectures on a variety of subjects including poetry and the importance of English language learning through the radio, in Palestine. He developed a series of talks for the PBS in 1937 called "Let's Speak English" under the pseudonym the President of the "Brighter English League." A set of booklets was printed to accompany the first six 15-minute radio broadcasts, that you could order directly from the "Brighter English League".
12 broadcasts were scheduled. The first series of weekly lectures was broadcast by PBS on Wednesday evenings from 9:00 pm till 9:15 pm. The first broadcast in the series was aired on December 15, 1937. The eleventh lecture in the series was scheduled to be broadcast on February 23, 1938. Unfortunately on that day, Edwin Samuel's taxi was involved in a serious car accident in which his driver was killed and his wife and his sister-in-law were all injured. The program was back on the air, a week later, March 2, on a new time of 9:30 pm till 9:45 pm. and the last of the twelve lectures was broadcast March 9, 1938. A new series of 12 weekly 15-minutes broadcasts was inaugurated on June 5, 1939, the last talk on the series was broadcast being on August 21, 1939.

Jerusalem Radio, June 9, 1939. p3.

To the Editor, "Jerusalem Radio", POB 1073, Jerusalem.

I wish to join the Brighter English League
or
I am already a member of the Brighter English League.

My full name is: ........................................................

My full address is: ....................................................

* * *

Please send me "Jerusalem Radio" for six months for which I enclose 190 mils


or


Please send me "Jerusalem radio" for six months and two new booklets
\called "Let's Speak English on publication, for which I enclose 270 mils.


or

Please send me two new booklets called "Let's Speak English" on publication, for which I enclose 80 mils.

* * *

Delete whichever is unnecessary.


Advert: Jerusalem Radio, June 9, 1939. p4.

A limited number of copies
of the first two booklets of

"Let's Speak English"

is still available.

Price 50 mils per copy.

Apply to:
The Publisher, Jerusalem Radio
POB 1073 , Jerusalem
Telephone: 3165
---
By 1945, the PBS management had realized the Jewish and Arab staff were like wild horses, pulling in opposite directions, and saw it necessary to separate the Arabic and Hebrew broadcasts once and for all. On December 15. 1945, with the separation of Arabic and Hebrew to separate radio stations, the Hebrew listeners were given no choice but to change the dial on their radio to a new setting to hear the broadcasts in Hebrew. The change-over took place relatively peacefully, having communicated what was going to happen in advance. This gave the organizers freedom to pursue their respective programs without the frustration of knowing that the Jewish sector would switch off the radio or change channels as Arabic programs came on the air while the Arab communities would switch off or over, when the Hebrew programs were on the air.
Another aspect of this website is to preserve and make accessible to the public, in a digitized format, those documents that are already turning a yellow brown and difficult to read and/ or scan, not to mention that in many cases the paper has started to physically disintegrate. Once digitized and placed in a searchable database format that can be used not only for research purposes, but also to reconstruct this episode as a digitized immersive experience.
However, one of the major barriers to this "immersive experience" is that very little remains of the original sound recordings themselves, other than music recodings.
TRANSPARENCY
How transparent, how opaque was the PBS? From 1945, PBS broadcast a weekly program entitled "Between Ourselves" (בינינו לבין עצמנו Bein-aiy-nu Levain Azmainu). These programs were always delivered by their senior management team, British and local: Edwin Samuel, Rex Keating, Mordechai Zlotnik, Director of Hebrew Programs; Karl Salomon, Musical Director, and Yeshayahu Klinov. Edwin Samuel, Director of Broadcasting delivered the broadcast, in English, on Fridays, while the local, Mordechai Zlotnik, Director of Hebrew Programs; Karl Salomon, Musical Director and Yeshayahu Klinov, delivered either a translation or different version on Saturday evening, after the Sabbath holiday. The program was a bulletin board of program, staff, and policy changes. It often included in-house management details, such as general statistics on budgets and royalties, information on the availability of training programs, among other things.
TRANSCRIPTS
The management team recognized that radio programs are ephemeral. Although there is nothing to compare to the actual sound recordings. Luckily the PBS staff had the foresight to preserve some of the more significant programs in the form of transcripts. The transcripts started to appear in the bi-weekly, then weekly magazine Hagalgal, along with backgounders to the programs a week to two weeks after the broadcast. The transcripts are identified with the Hebrew word "shudar", which means "broadcasted" at either the beginning or the end of the article. Even better than the word "shudar" is if the article includes a date to the broadcast. Unfortunately, the problem is that the editing was not always accurate. So it is difficult to verify if the program did in fact take place on the day listed or not. Was the program recorded in advance? or was the broadcaster on the air at the time of the program? Hard to tell. At best the transcripts appears a week to three weeks after the actual broadcast.
COMMUNICATING WITH TARGET AUDIENCE
The PBS needed to learn who are the current local leaders, influencers, the so-called "movers and shakers". To be in regular contact with them, open conversations. Learn from them, hear what they have to say and report back the issues of the day from their perspective. These links were also communication lines to pass on the message or messages that the British Governemnt wanted to relay to local leaders, political, social, economic and commercial. How did they identify current leaders and potential future local leaders? What methods were used to bring them into PBS's orbit? Were there any rivalry among the local leaders that they could identify?
The PBS from the outset partnered with the Vaad Leumi, the local governance of the Jewish Yishuv of Palestine. They made similar outreach to the Arab elites. This way PBS would be in regular contact with the leading personalities of the Yishuv, movers and shakers, "influencers" as they would be called today.
There were many barriers to communication: language, culture, religion, and geography. One way was the traditional speaker program. In the old days, for example, giving a talk or lecture from a stage, was straight forward. There was a direct connection between the guest speaker and his/her audience. But not so radio. Radio was a new technology that had to be learned from scratch. The broadcaster or guest had no idea if anyone was listening to them at all. The message could fall on deaf ears. They had to find out who was listening to them and what the thoughts on the programs were. They developed many creative ways to reach the audience. There were many routes to reaching a wide an audience as possible. The PBS set up programs that targeted schools, the home, and youth, including sport.
CROSSING THE LANGUAGE BARRIER
For PBS to reach out to Palestine's diverse poulation, they realized that the language barrier could be partially overcome by teaching the various languages (English, Hebrew, Arabic and even Yiddish) through the radio broadcasts. Palestine had already a substantial immigrant population and coming from many different languages around the world. It had the spin-off that even diplomats could learn something of the various languages. A win-win situation. Language is also culture-based. So how else could you get a message across if the local population didn't understand where you were coming from. PBS had taught English practically from the word go. There were a number of programs throughout the 1930s and early 40s teaching English by radio. But it took on a different level when PBS teamed up with the British Council. One name stands out above all, Ian Catford. He developed a 15-minute weekly series for the radio entitled "Double Your Vocabulary". The first lesson was Monday December 17, 1945. After three weeks the producers must have realized that the listening public needed to physically see the vocabulary list in front of them while listening to the broadcast. So starting on January 28, 1946, Lesson #7, the short list was published in Hagalgal on the same week it appeared on the schedule. For the record, the week before, they also published Lesson No. 1. The last lesson published was Lesson no 25 (May 27, 1946) but there were two more lessons scheduled. The last lesson broadcast on June 17, without any published list. Ian Catford returned to Britain. Catford would later become a world famous phonetics expert and teacher.
RADIO FOR SCHOOLS
One of the ways to reach a wider audience was through the educational system. Vaad Leumi, Department of Education and directly to the schools themselves. This was outreach on an on-going manner to teachers, who were seen as influencers and students who were future leaders. Schools offered the PBS staff a perfect opportunity to get out of the studio and meet with their audiences in any number of locations throughout the country. Tel-Aviv, Petach-Tikva, Kfar Sava and Haifa. Through Listeners Planning Committees and school programs, the PBS management could get to know the local leaders, including the local municipal governments up close, to inform them of the latest developments in British society, and to listen to their needs, demands, priorities.
WOMAN'S CORNER
Another large group of influencers was women. The PBS targetted them in very traditional ways. The women were seen primarily as the home makers, so topics were mainly about food and fashion. In order to get feedback, once again they turned to a national competition for "Mother and Child" in which the mothers would send in photos of themselves and their families. PBS worked with woman NGO's for their programming material and two names stick out to get the women's corner up and running. A husband and wife team: Asher Hirshberg and Tichiya Bat-Oren.
One of the outcomes was a booklet "B'Maagolei Tazona" which roughly translates as "Food Circle" which came out in 1946. This was meant to be a monthly, but only one issue was ever published. A second booklet came out six months later entitled "Halichot HaBayit" roughly translated as "House Rules", about how to clean various materials the housewife would likely come across. but it was edited by someone called Mina Myer (not the Hirshbergs) again only one booklet was ever published. However, many years later, in 1966, Techiya Bat-Oren, authored a book of the same title, leaving one to wonder who was Mina Myer?
BOOKS AND PAMPHLETS
A quick glance of some of the books being translated into Hebrew at this time will show that these are the books, in English that could easily form a core collection of any British Council library or American Consulate library. It could be an opening for a conversation between British officials and local leaders. Not much response if you began your conversation with a book the other person has never heard of, nor cares about, yet the book is part of British or American culture.
Here is short list:
Johanthan Swift (British)
Mark Twain (American)
Oscar Wilde (British)
William Sorayan (Americcan)
William Shakespeare (British)
John Galsworthy
Dorothy Parker
George Orwell J.B. Priestley (British)
Robert Greenwood (British)
John Strachey (British)
John Steinbeck (American)
Talbot Baine Reed(British)
W. Somerset Maugham (British)
Saki (H.H. Munro)(British)
John Habberton (British)
H. G. Wells (British)
George Bernard Shaw (Irish)
Penguin Books



Guliiver's Travels
While there is no known direct link to any particular book translation program, a look at what British and American books were being published and what movies were being screened at the time is quite revealing. Just taking one publisher Am-Oved under editorialship of Berl Katznelson at the time, there is some interesting works that were translated in Hebrew. Katznelson was impressed with the writings of British writers such as J. B. Priestley's Daylight on Saturday; Robert Greenwood's, Mr. Bunting; the writings of John Strachey; and Talbot Baines Reed's The Willoughby Captain; and American writer John Steinbeck's The Moon is Down: the movie ; among others, all translated into Hebrew and reviewed in one or another of PBS's publications.
In the case of Talbot Reed's book, Am Oved actually mistakenly named the author in the book itself as "R. Talbot", when in fact Talbot was the author's first name . The mistake was carried over to the booklet "Hasket V'Haskel" ("Listen and Learn") where the book was reviewed as being suitable for high school students.
PUBLIC FEEDBACK/ LISTENERS PLANNING COMMITTEES
The broadcasting authorities were constantly trying to develop a better product, to find out what the public thought of their broadcasts, what would the public like to see changed. To that end, the PBS established a Listeners Planning Committee. This went round the main cities and towns of the Yishuv to find out what listeners really thought of them first hand. From a public diplomacy perspective, it was exceedingly important to get to know their audience and to see whether the broadcasts were in fact influencing hearts and minds. Another way was through competitions and quizzes, requesting listeners to send in their answers to the PBS, or just to correspond with the radio station to subscribe to the publications and let them know about likes and dislikes.
SPORT
Based on the British press at the time and still today, sport was left to the back pages, just before the back cover and the page of program schedules. Alexander Alexandrovitch wrote one of the longest standing columns in Hagalgal. His column appeared under the bi-line "100 Lines of Sport." ("Meah Shurot al Sport") . Alexandrovitch also had a regular 5-10 minute weekly Saturday evening slot. The time varied a little but usually around 8:15 PM starting with a news bulletin. There is no way to know today if the column was a supplement to the radio program, or it had material not included in Hagalgal, or both. Hagalgal came out on a Thursday, so most likely the weekly magazine column was actually looking backward to the previous week, and would also include what to look forward to in sport in the week ahead. Hagalgal records Alexandrovitch's first radio broadcast as Saturday, July 29, 1944.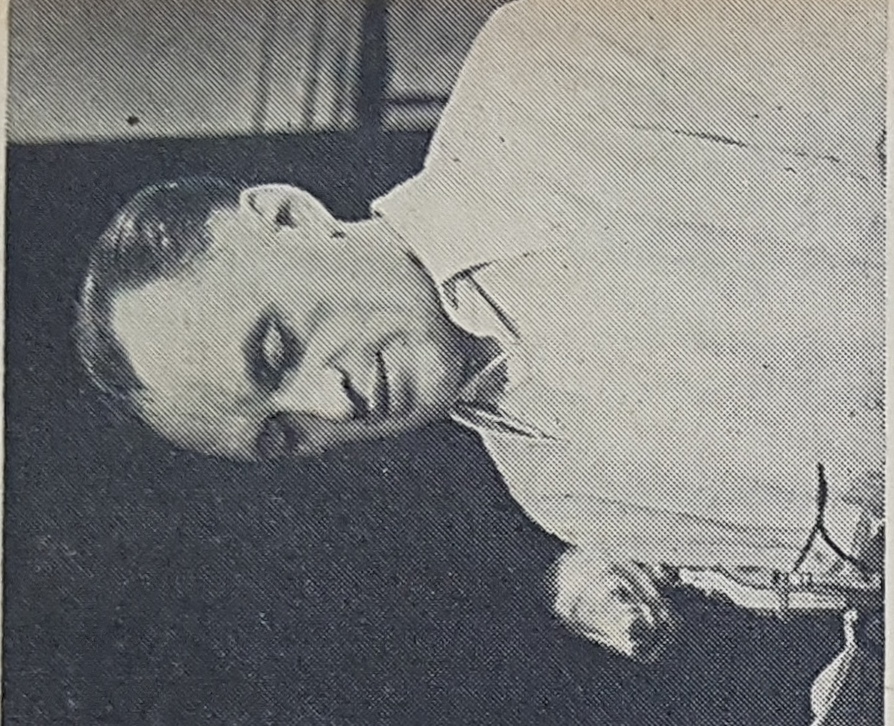 Alexander Alexandrovitch
GYMNASTICS
On Sunday, December 16, 1945, a daily 20-minute physical fitness morning program (7:05 AM to 7:25 AM) was started up in Hebrew. It was presented by Michael Ben-Hanan. Simultaneously, a five-minute physical exercise program was started in English on the same morning (7:55 AM to 8:00 AM). It was realized that the listening public may not totally understand what they were supposed to do by way of the exercises so Hagalgal published little drawings of the exercises each week to either remind people what they had learned in school or teach teh listeners new exercises.
| | | | | | |
| --- | --- | --- | --- | --- | --- |
| | | | | | Michael Ben-Hanan (Zemel) |
---
EMPLOYMENT AT THE PBS
---
DEPARTMENT OF BROADCASTING
VACANCY FOR A TEMPORARY
PUBLIC RELATIONS OFFICER
Salary LP 300 a year plus LP 113 war compensatory
allowance for an unmarried man or woman.
Qualifications required:
a) Knowledge of public relations or journalism.
b) Full command of Hebrew and a very good
knowledge of English.
c) Initiative.
Duties
To prepare all Hebrew broadcasting material for
publication in "Hagalgal", etc. and possibly in English for
other journals. To write up PBS events and programme
for the daily Hebrew and English press. To answer press
enquiries, etc.
Applications to be sent in writing to the Director of
Broadcasting, Jerusalem.
---
The Palestine Post, 11 January, 1946. page 3.
---
Radio was a new concept to most people. Very few people had any experience with working for anything close to radio other than the experience of a listener. Where did you begin to apply for a job at the PBS. What were they looking for in a candidate for a position. Language was one factor that had to be taken into consideration particularly important to reach out to the Hebrew and Arabic speaking audiences, but they also took into consideration that the English language was also important if not just for the writing memos, drafting speeches and reports to send up the line to those diplomats that needed to know, for example, what was the results of their budgets It was these diplomats that had to communicate with their government, with parliament and or to the United Nations Commissioners and anyone else who needed to know, for example, visiting members of parliaments, or experts in certain fields, the weather, agriculture and farming, among others. Not everyone hired was working behind a microphone, but for those that were one of the major requirements was did the candidate have a suitable radio voice and or personality. The broadcasters had to be taught how to use the relatively sophisticated equipment of the day. Placing recordings on the turntables at the right moment, making use of the sound archives. Speaking to a microphone, with just the right tone of voice. Imagining an audience. In some cases even recording their program in advance, outside broadcasts, etc. Keeping to timetables and schedules. The work was demanding. The broadcasters themselves were to become household names, celebs, their voices welcomed into people's homes even if the public didn't even know what they looked like. Hagalgal magazine place their portraits or "actions" shots of the journalists from time to time, to make the connection with the broadcasters more personal and friendly.
IN-HOUSE TRAINING PROGRAMS
"In-house" training was an essential part of the success of the PBS project. They set up in-house training programs for local employees, and to create a cadre of potential new blood that would be able to take on the needs of broadcasting in general: specifically to learn how to perform in front of a microphone, with or without a live studio audience, and also, for example, how to script a radio play, creating a new hebrew word in the process "taskit"(תסכית). Senior staff were sent to London to learn how the BBC managed its programs.
NATIONAL ROAD SAFETY CAMPAIGN, 1947 Road safety became one of the main themes for the PBS in 1947. On the one hand this may have been brought about by Edwin Samuel's personal experience. Back in February 23, 1938, as reported in the Plaestine Post. Edwin Samuel was involved in a very serious car crash. He was with his wife and sister-in-law when the car (a taxi) he was travelling in crashed. His driver was killed and he and his family were all injured. But never miss an opportunity to exploit a situation like that and from there a national campaign for road safety emerged. What better way to have an excuse to look at go to small towns and village throughout the land, to set up exhibitions and road signs and talk about road safety.
TELEVISION
According to Wikipedia article on Television in Israel Israel's first national television service was inaugurated in May 1966. The article completely misses out any events predating the state.
However, one should keep in mind that in 1936, while British Mandatory Palestine was setting up the PBS radio broadcasting station, Britain, itself was already moving on to the next level thanks to the Scottish inventor John Logie Baird. That level was television. America too had television. Probably not a well known fact , but in 1937, the BBC produced a televized performance of the play "The Dybbuk" by S. Ansky in London, performed by Habima in their visit to London that year.

Photo: source: Hagalgal Volume 4, No.27, page 10.
See also Radio Times Issue no. 737, 1937.

The Habima Theatre in scenes from The Dybbuk with Hanna Rovina and
other members of the company from Tel-Aviv. Presentation by Dallas Bower.


Advert for RCA Store, 18 Nahalat Binyamin Street, Tel Aviv
Advert appeared in Hagalgal magazine, volume 4. Issue No. 23 page 24, (2 January, 1947).

Moshe Berman, a contributing writer for Hagalgal, on radio and television technology, wrote in Hagalgal Volume 3, Issue No. 35, P27 : "One of the profoundest experiences in my life happened to me when I was in London at the end of 1937. I saw and heard the second act of "The Dybbuk" presented by our "Habima" theater, not on the stage, but in television! That year Habima visited London for a production, and they were requested to broadcast in the innovative branch of radio. I remember, I sat rivetted to the set in the coffee house in Picadilly Square when on the small screen appeared the heroes of the plot, so well-known to me from the stage. And when the act was over I felt indeed the legendary television had been incarnated into the the magical mirror that makes possible to see events somewhere in the far off distance."

Moreover, there is an article in Hagalgal (Volume 5, No. 33, March 11, 1948, page 3 ) signed only with the initials "Yud Mem" so probably penned by Yehoshuah Meshulach, Hagalgal's resident weekly program critic. This article was out of character. It was as if he had discovered America. He relates that he had just met with Israeli radio pioneer and boffin, Menachem Abramovitch, an electrical engineer, set up the first radio network/studio at the Levant Fair, in Tel Aviv International Exhibition Ground, which lasted till 1935 and he closed it down with arrival of the PBS. In 1948, he had just returned from America, where he had spent the war years, immersed in learning about the new technologies involved in setting up a television station/network. On his return he immediately got to work on his dream and set up a small working television station in the RCA store, 18 Nahalat Binyamin Street, Tel Aviv for demonstration purposes, as proof of concept. It worked. He met with Edwin Samuel. Samuel had just returned from London, where he had the same idea, only he had been shown that the budget would be around one million Lira Palestine. Avramovitch thought that too steep. He could set it up for something like 100,000 - 200,000 lira. He invited Meshulach to take a look for himself. Now the only question was how expensive would it be to set up a national TV service? Politics was not the issue, at that time. It boiled down to money. But the PBS days were numbered as they started to wind down to letthe new state of Israel take over the public institutions. Radio was turned over to the Vaad Leumi, and immediately there was a spate of resignations, much like Elon Musk takeover of Twitter. Some radio announcers stayed on, others found jobs in the diplomatic core of the new state having made international contacts too valuable to go to waste.

It would be nearly twenty years of labour party/government feet dragging until would reluctantly accept television as a significant means of communication, making sure that only their party, agenda and narrative were going to be dominate all aspects of television.

This site can only scratch the surface of the subject, and my hope is that it will add something, however little, to the public knowledge in this near forgotten and often misunderstood episode of history, the pioneers of radio in Palestine of the relationship between Britain and Israel during the Mandatory period. A ray of light in this otherwise dark era.

Leslie

FURTHER READING

(1) Letter Edwin Samuel wrote to Wing Commander A. H. Marsack, BBC offices, Cairo, dated May 24, 1945 archived Rex Keating 2/7/1, MEC Archive, St. Anthony's College, Oxford.
(2) Letter Edwin Samuel wrote to Rex Keating, dated 31 May, 1945. Archived Rex Keating 2/7/1/-2, MEC Archive, St. Anthony's College, Oxford.
Stranton, Andrea, L : Jerusalem Calling: The Birth of the Palestine Broadcasting Service"
---